Getting the Most Out of Your Parking Lot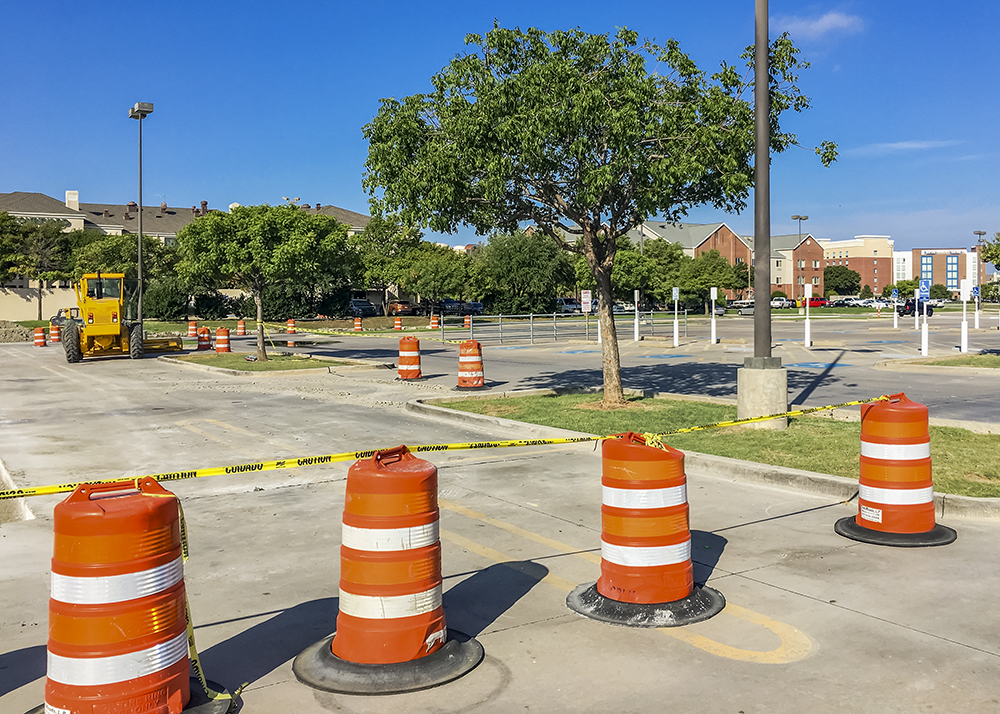 Spring paving season is almost upon us and now is the perfect time to assess and take action regarding how you maintain your parking lot. From the moment the last worker walks off your freshly completed parking lot, the value, stability, and integrity begin to slowly depreciate.
While there's no way to prevent the deterioration of your parking lot, initiating a preventative maintenance program will combat this process and extend the life of your parking lots. In the world of asset and property management, there are two approaches when it comes to dealing with maintenance, the aforementioned preventative maintenance process or working on a reactive basis. These two processes are handled quite differently.
The difference between these approaches becomes obvious when you define them.
React: verb  /rēˈak(t)/
Definition: to respond or behave in a particular way in response to something.
Prevent: verb  /prēˈvent/
Definition: to keep (something) from happening or arising.
Let's break down these processes and examine the effects they have on the lifecycle of your parking lots.
PaveConnect Can Help You Put a Maintenance Plan Together for Your Parking Lot!

Reactive Maintenance
Property and facility managers might often choose to operate (or unknowingly operate) on a reactive basis because they feel that it can:
Help "save" money.
Shore up money for more pressing issues on the property.
Offer temporary peace of mind by pushing the issues to the back of their mind.
They fail to take into account that by using a reactive approach, they are simply treating the symptoms and not addressing the root of the problem head-on. The lasting effects of reactive maintenance are, more often than not, negative. Over time, utilizing only reactive maintenance will:
Put your property or asset in a further state of disrepair.
Cost you valuable time and money that may set back other aspects of your facility.
Have an overall negative impact on the functionality and accessibility of your facility.
Preventative Maintenance
Property and facility managers depend on preventative maintenance because it will:
Save them money over the life of their parking lot.
Prolong the look and integrity of their parking lot.
Keep their business open and functioning at optimal levels.
Preventative maintenance will have long-lasting positive effects, unmatched by a dependence on a reactive approach. Over time, a preventative approach will:
Help you extend the life of your parking lot because you are treating the causes of future problems before they develop into larger issues.
Save you money. This allows for optimal use of funds toward your business, as the money you save over time can be directed towards the other aspects of your facility that need attention.
When looking at these two approaches by comparing the Total Cost of Ownership over the life of your parking lot, it becomes evident that you will wind up spending more money when it comes time to address the real issues that have been exacerbated by your reactive maintenance approach. Let's look at the numbers.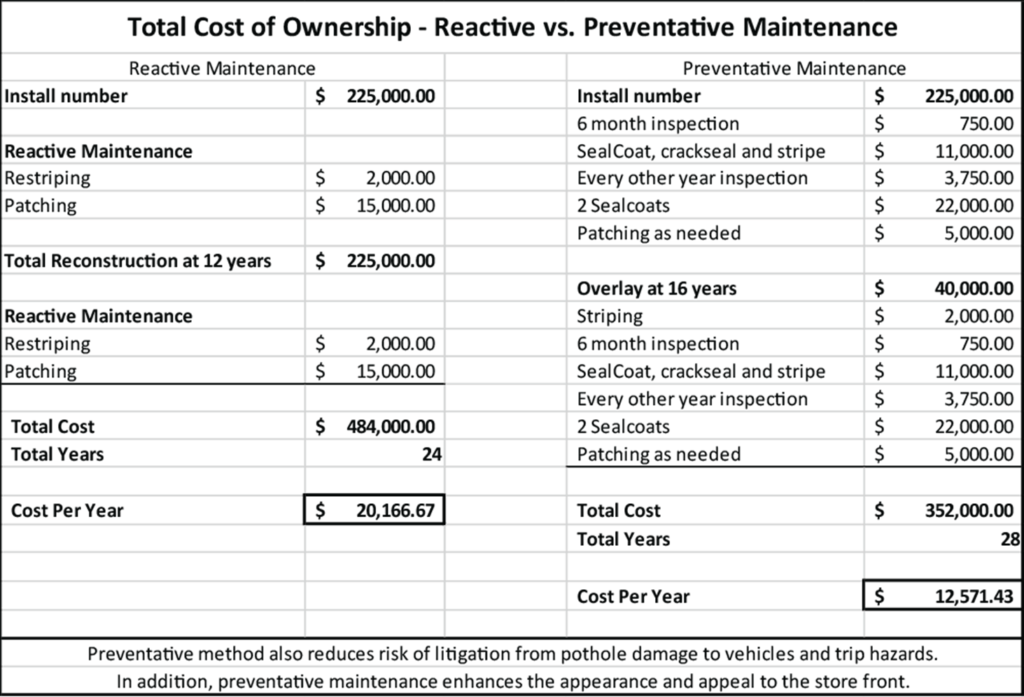 The figures in the chart above are from two different facilities that share parking lots that are approximately the same size and were installed around the same time. Installation costs for each parking lot was roughly $225,000 each.
Below are some observations from the data gathered above about the parking lot being maintained via reactive maintenance:
The only maintenance performed was for restriping and patching work, totaling $17,000.
The parking lot only lasted 12 years before requiring complete reconstruction,  costing an additional $225,000.
The same reactive maintenance practices result in the parking lot only lasting another 12 years. 
Over a period of 24 years, $484,000 was spent on maintaining and rebuilding the parking lot. Average cost per year: $20,166.67.
Below are some observations from the data gathered above about the parking lot being maintained preventatively:
While the cost of maintenance is higher per year on average, it extended the life of the parking lot, allowing an overlay to be performed instead of a complete rebuild.
The 16 year overlay cost $40,000.
The overlay extended the life of the parking lot for another 12 years, aided by performing routine maintenance work.
Over a span of 28 years, a total of $352,000 was spent, averaging just $12,572 per year, a savings of over 37% per year!  
From the chart and points listed above, the difference becomes evident. While year-to-year maintenance costs are more with a preventative maintenance program, it keeps your parking lot healthy, extending its life and avoiding the need for a costly rebuild after just a dozen years!
If you're interested in taking control of your maintenance program costs, PaveConnect can help! We'll work with you to:
Assess the condition of your paving portfolio.
Create detailed reports highlighting all issues found in our assessment.
Work with you to create a maintenance plan that works with your budget, that will extend the life of your parking lots and save you money over their life cycle.
Call the professionals at PaveConnect today! 
Looking for a National asphalt paving contractor for your next project?
© 2019 All rights Reserved.