Is Your Parking Lot Ready for Winter?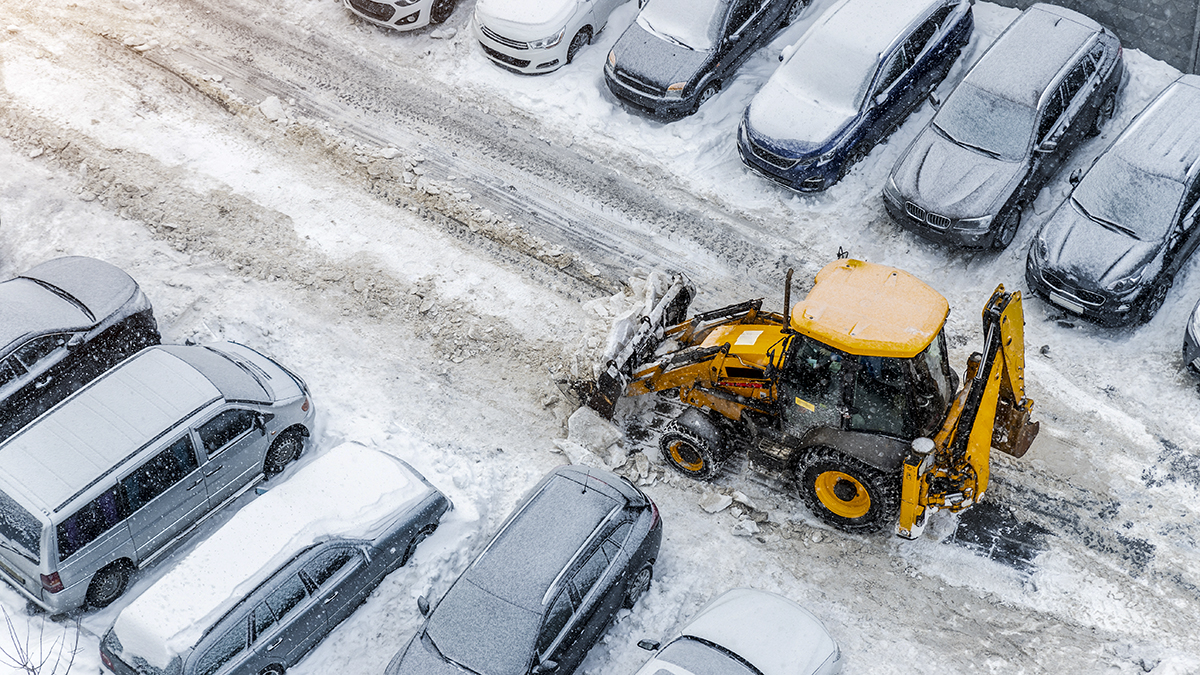 Winter is almost here! Is your parking lot ready for the elemental impacts the season will bring? Snow and ice are two of the biggest threats to your parking lot. When snow and ice melt, the water doesn't just rest on the surface, it can seep down into the subgrade and refreeze, causing massive structural damage to your paving installation. Below, we will discuss the steps you can take to ensure your parking lot is prepared for winter weather.
1. Make a Plan for Snow Removal
The first thing to think about when planning for snow removal is where you're going to put the snow. They key is to avoid having snow build up near your building, street entrances to the parking lot (for visibility), parking spots, fire hydrants, water/gas mains, egress doors, etc. Creating a map to mark hazards in your parking lot can help you define areas where you can allow for excess snow to be piled up. Also, consider buying salt and ice melt before the season starts, as supplies run out quickly when the snow begins to fall. Lastly, consider concrete grooving on any newly constructed concrete areas, this adds more traction for pedestrian traffic and will help you stay on top of sidewalk safety around your building.
It is imperative to find a contractor you can trust to remove your snow and review your snow removal plan. They can usually assist you with planning and together ensure your parking lot is well-protected all winter long.
3. Get Your Parking Lot Assessed
To prepare your parking lot for winter, you must first understand the true condition of the lot. Having a professional come and assess your parking lot can give you good insight into the actual condition of your lot.
PaveConnect Can Help You Put a Maintenance Plan Together for Your Parking Lot!

4. Fill All Cracks and Potholes
Filling cracks and potholes is an essential practice in preserving the integrity of your parking lot. Water is at the root of most problems relating to failing asphalt pavement installations. When temperatures rise, the snow and ice on your lot will melt, and the resulting water will soak into the cracks and potholes that have been neglected in your lot. Eventually, the temperatures will drop again, causing the water to refreeze and impact your asphalt from below, causing potentially severe structural damage.
5. Clean Off the Pavement
Primarily, you should strive to keep your parking lot clean because it makes a great first impression for guests and employees arriving to your facility. Keeping a clean parking lot also helps extend the life of your parking lot and prevents erosion by ridding your lot of debris and silt. By keeping your parking lot debris free and keeping your drains clear of debris, you can help ensure that water can properly run off, preventing build up that will eventually refreeze.
Failing to prepare your parking lot for winter can result in expensive repairs and reactive maintenance. That is why it is always recommended to put a plan in place, maintain contact with a trusted contractor, and make sure you are taking proper care of your parking lot! If you are interested in learning more about putting together a plan to prepare your parking lot for winter, contact the professionals at PaveConnect. Our team is available to discuss all your paving needs! We can assess the condition of your parking lot and help you put together a plan to ensure your parking lot is in top shape, year-round!
Looking for a National asphalt paving contractor for your next project?
© 2019 All rights Reserved.