4 Reasons Why Parking Lot Maintenance Is More Important Than You Think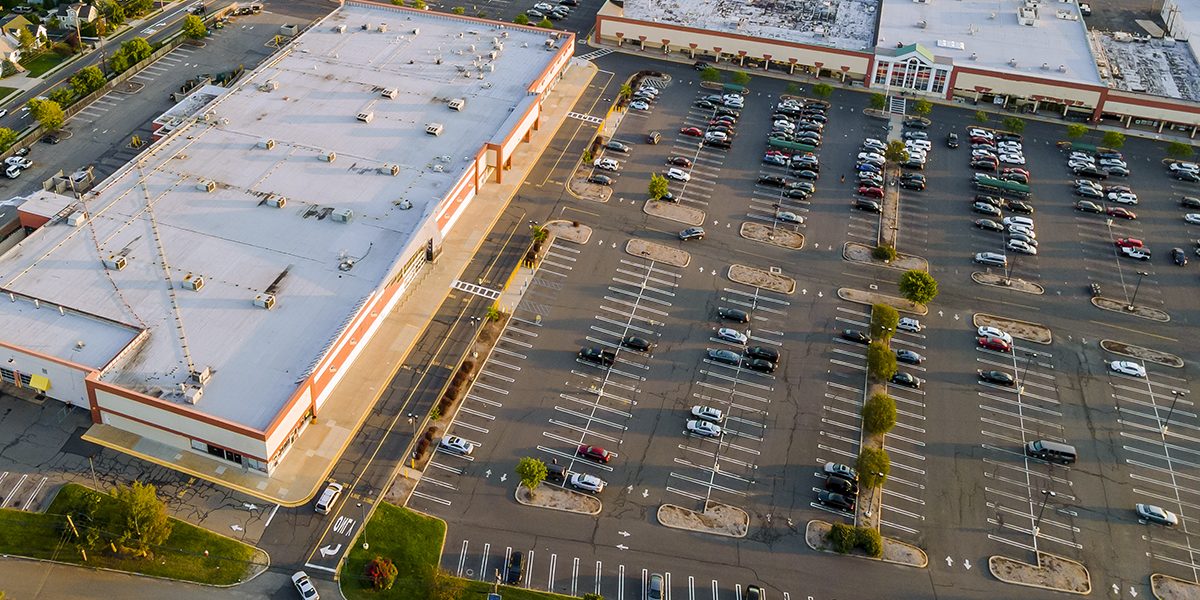 As a facility manager or business owner, you should always strive to improve the overall experience of customers and employees visiting your facility. I say overall, as you should consider improvements for both the inside, as well as the outside of your facility.
What is Parking Lot Maintenance?
Parking Lot Maintenance consists of various treatments and repairs used to extend the life of pavement. The majority of parking lots across the United States are made from asphalt, which is susceptible to weathering that can weaken and damage the pavement. When it comes to regular facility maintenance, too often the parking lot is overlooked, especially when funds are limited. This can lead to a variety of different paving problems that can escalate quickly if not repaired right away.
Parking lot maintenance is an important part of facility maintenance and should be treated as such. In the next section, we'll break down four reasons why parking lot maintenance is more important than you think.
PaveConnect Can Help You Put a Maintenance Plan Together for Your Parking Lot!

1. Safety for Customers and Employees
Parking lot maintenance is about more than just appearance, it can play a significant role in improving the safety of your parking lot for both drivers and pedestrians. A neglected parking lot will develop severe cracks and potholes that expel gravel and other small debris into your parking lot that can damage tires and cause flat tires or scratches on vehicles from loose rocks. Cracks, potholes, and loose gravel also put your customers at risk of injuring themselves in a fall. If a customer is injured or their vehicle is damaged on your property, you could be held liable.
One in five vehicle accidents happens in a parking lot. Make sure that your parking lot's striping and crosswalks are clearly marked and visible, this will help reduce the risk of accidents and provide safe pathways for pedestrians.
2. Improve Curb Appeal
Today, most business owners understand the value of curb appeal and they invest in colorful signage and landscaping to spruce up the look of their facility. There is one often overlooked aspect of improving curb appeal: parking lot maintenance.
While the parking lot is a place for visitors to park while they are visiting your facility, it can also influence potential customers' perceptions of your business. This is important to think about, as curb appeal can be the determining factor as to whether potential customers shop at your business or your competitors.
Failing to properly maintain your parking lot can lead to rocks, dirt, leaves, and other debris collecting your parking lot that can clog drains or damage vehicles in the lot. Ugly faded lines, asphalt cracks, and potholes are evidence of a poorly maintained parking lot that could be driving customers away instead of drawing them in.
3. Stay ADA Compliant
It has been over 30 years since Congress passed the Americans with Disabilities Act (ADA), which made it illegal to discriminate based on race, religion, sex, national origin along with other characteristics. The ADA also required employers to provide reasonable accommodations for employees with disabilities and required all public accommodations to meet specified accessibility requirements.
It is important to create a welcoming environment for all your customers. Complying with current ADA standards sends a message to customers and employees that all are welcome at your facility. Although designed to aid those with physical disabilities, there are other people, like parents with baby strollers or delivery drivers hauling heavy freight, who use and are grateful for a truly accessible entrance.
4. Saves $$$ and Extend the Life of Your Parking Lot
Atrophy is inevitable for parking lot pavement, but creating a proactive maintenance plan for your parking lot can slow the process considerably. A parking lot is much like the cars that drive on them, from the first day onward, it depreciates.
Asphalt doesn't enjoy a long shelf life. A well-designed, well-built asphalt parking lot installed by professionals can continue to perform for 25 years or more. This long lifespan is only possible when the lot is well maintained through regularly scheduled preventative maintenance.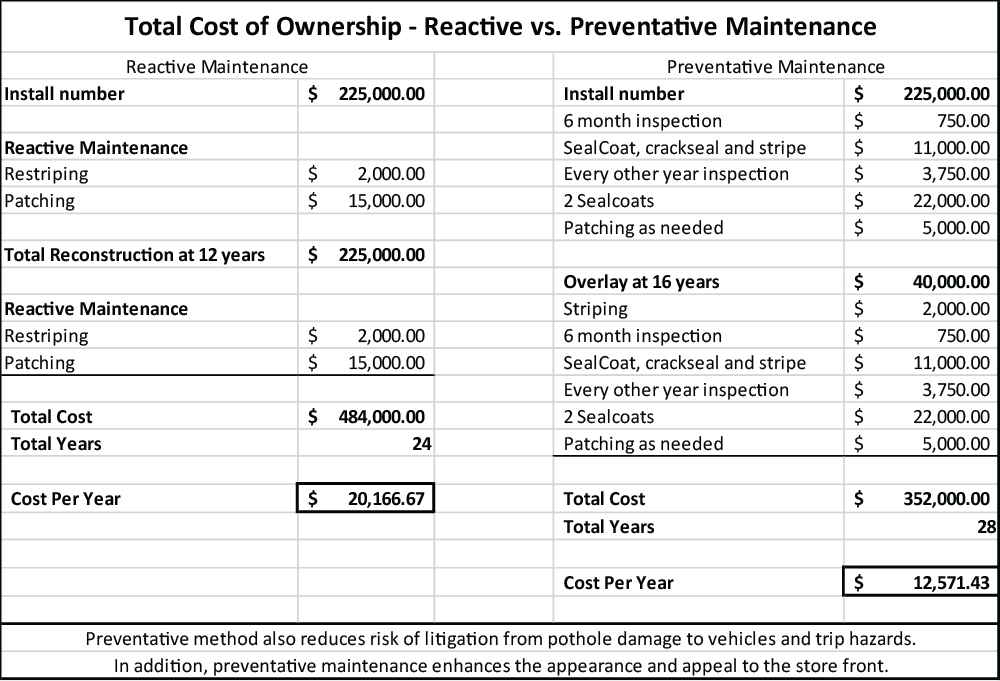 When compared to a reactive maintenance approach, you can save money and extend the life of your parking lot. In the example above, a case study was performed, comparing the total cost of ownership when a preventative maintenance plan is enacted versus the cost of maintaining your parking lot on a reactionary basis. The preventative maintenance plan not only extends the life of your parking lot but saves you 37% of the total cost per year!
Regularly scheduled parking lot maintenance can greatly improve the safety and curb appeal of your parking lot, ensuring that it is a welcoming environment for everyone, while simultaneously saving you money and extending the life of your parking lot. If you're not sure where to start with your parking lot maintenance, consider contacting a professional paving contractor that can evaluate your parking lot and aid you in creating a proactive maintenance plan for your parking lot. The professional team at PaveConnect is always available to discuss your paving needs! For more information visit www.paveconnect.com or call 877.942.5613.
Looking for a National asphalt paving contractor for your next project?
© 2019 All rights Reserved.